Rover Thomas: Key Points
This work is an early example of important Kimberley artist Rover Thomas' paintings on board, rarely seen on the market for private sale
The painting has exceptional provenance, including Thomas' early representative Mary Macha and the respected gallerist Judith Behan (Chapman Gallery, Canberra) and was previously part of the Alan Boxer Collection
The artwork is accompanied by a letter from Wally Caruana confirming the Mary Macha provenance
These early boards connect to the historically important Gurrir Gurrir series to which Rover Thomas was instrumental
Such early boards can be found in the collections of the National Gallery of Australia, the Art Gallery of New South Wales, National Gallery of Victoria and the Art Gallery of Western Australia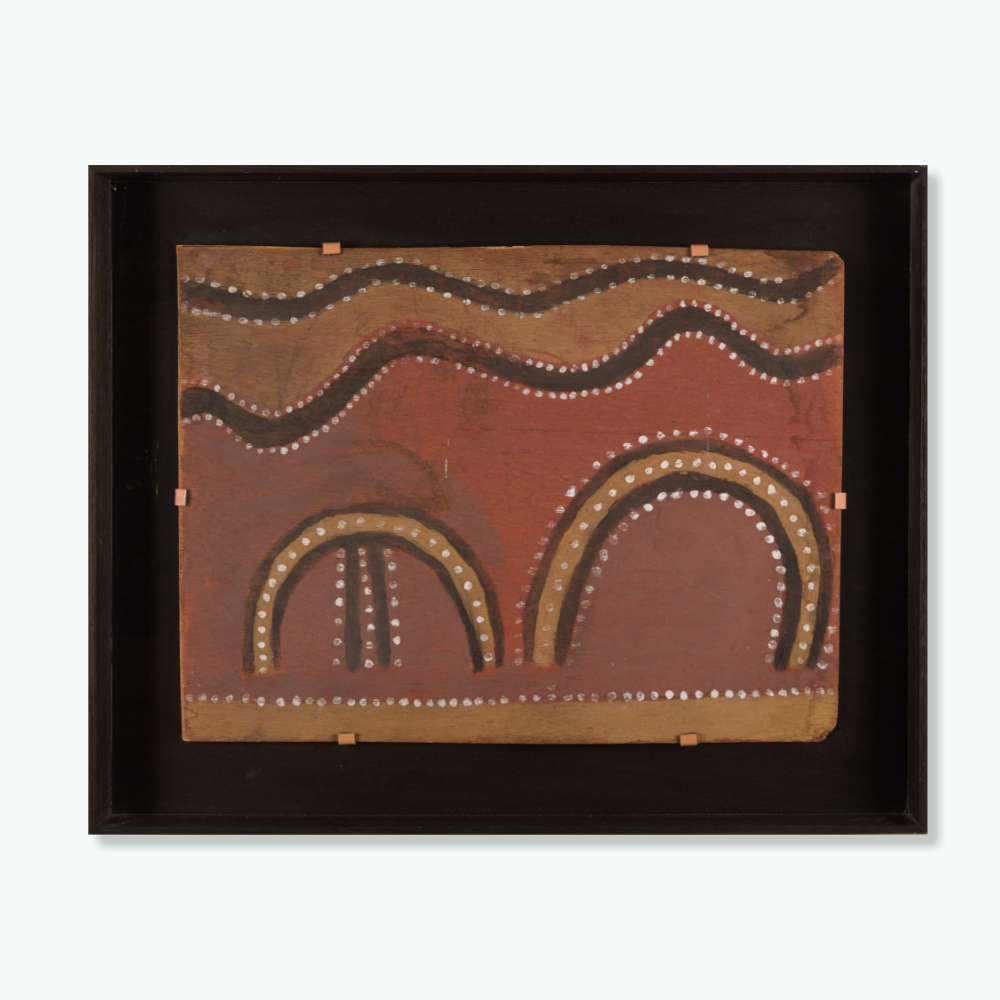 ROVER THOMAS
Meree, Texas Downs, 1986
signed on the reverse
natural earth pigments on board
46.5 x 61.5 cm.
Provenance
Mary Macha, Perth
Chapman Gallery, Canberra
Alan Boxer Collection, Canberra
The Alan Boxer Collection, Leonard Joel's, Melbourne, 19 May 2016, Lot 119
Private Collection, Melbourne
Exhibited
Chapman Gallery, Canberra, The Creative Spirit, November – December 1991, cat. no. 33
Accompanied by a letter from Wally Caruana confirming the authenticity and provenance of this work (click to view)
$ 65,000
Art Money payment in instalments available
"One of my richest memories is of Rover coming out of the crowd, and saying to me with unquestionable confidence: Rover Thomas. I want to paint."
– Mary Macha
Comparable Works
As one of Australia's most important artists, Rover Thomas' work is well-represented across state institutions including the National Gallery of Australia, the Art Gallery of New South Wales, the National Gallery of Victoria, the Gallery of Western Australia, the Queensland Art Gallery and the Art Gallery of South Australia; as well as international collections such as the British Museum in London and the Opale Foundation in Switzerland.
The Market
Whilst critically regarded as one of Australia's most important artists, Rover Thomas' market is relatively under appreciated compared to some of his contemporaries. Whereas his works achieved strong prices early on, the last decade they have remained stagnant – which makes this a great opportunity to acquire a rare early example of an incredibly important artist's work at a reasonable price.
Biography
Rover Thomas (1926-1998) is regarded as the most influential Kimberley artist, as well as one of Australia's most important painters. His early paintings on board, produced together with his uncle Paddy Jaminji for the Kurirr Kurirr ceremony, occupy a key position in the art-history from the Kimberley region and are celebrated beyond. As the first Indigenous artist to represent Australia at the Venice Biennale in 1990 (alongside Trevor Nicholls), his importance has been firmly cemented and long been recongised both within and outside of Australia. Rover Thomas' work is found in the collections of the NGA in Canberra, AGNSW in Sydney, NGV in Melbourne, QAGOMA in Brisbane, AGWA in Perth and AGSA in Adelaide.
Slide


All images copyright © the artist